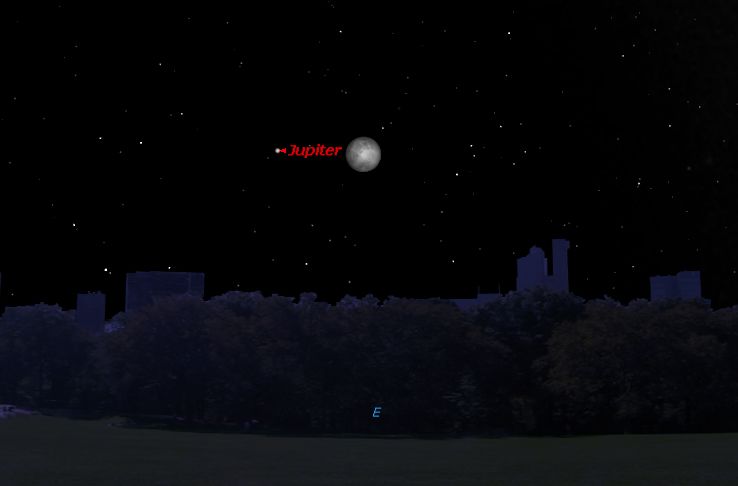 Opinion:
This was a great test of the "Moon Illusion". When Jupiter and the Full Moon were rising in the East, I used the 'fist method' to measure their apparent distance at roughly 11 degrees (your fist held at arm's length is roughly 10 degrees, as these articles often say). On the horizon, the Moon looks so big, but so does apparent distance between celestial objects. Jupiter and the Moon were fairly close, almost at conjunction if you will, but seemed really far apart when compared with objects in the foreground (trees, buildings, etc.).

Later that night when both were high overhead, I measured the distance again… this time 10 degrees. I chalk that 1 degree difference up to the Moon's orbital motion. But they appeared A LOT closer together, proving the 'Moon Illusion'.

I also like to use Orion as a good teaching tool for this optical illusion. When it's rising in the east, that constellation looks enormous. When high overhead, eh, not so much. But you know the Hunter is the same size. 

So the next time you see a huge moon on the horizon, just remember it's all in your head.
The Full Moon celebrates Jupiter's coming opposition by accompanying the bright planet in a beautiful conjunction tonight.
Even last night Jupiter and the Moon were close enough to attract attention. Tonight they'll be even more striking. Two reasons for that. The Moon is full this evening and will have crept within 41/2° of the planet. They'll rise together and roll together all night long.
---